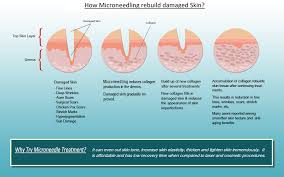 Introduction to Collagen Induction/ Micro-Needling
The concept of micro-needling is based on the skin's natural ability to repair itself when it suffers physical damage such as cuts, burns, abrasions or other injuries. Immediately after an injury to the skin, our body begins the healing process, triggering new collagen synthesis.   The treatment intentionally creates very superficial "micro-injuries" to the outermost layer of the skin, inducing the healing process including new collagen production. Micro-needling has been shown to reduce the visibility of acne scars, fine lines, and wrinkles, diminish hyperpigmentation, and improve skin tone and texture, resulting in smoother, firmer, younger looking skin.
For skin micro-needling, I use an electric skin needling device made especially for this purpose. The device is a pen shaped studded with 12 very fine needles. It is a device used in micro needling to break down old scar tissue and to stimulate skin cells to proliferate. This cell multiplication results in the formation of new tissue layers of elastin and collagen fibers as well as in new capillaries for an improved blood supply.
What are the benefits of Micro-Needling?
Dramatically increases the effectiveness and penetration of active ingredients in topical products

Stimulates circulation and collagen production

Cost effective compared to other resurfacing procedures

Can be performed on all skin types, including ethnic skin

It can be used on all areas of the scalp, face, body including fragile skin like around eyes, mouth and neck
What conditions can be treated?
Mild to moderate acne scarring; any new or old scars

Fine lines and wrinkles;

Loose, lax skin;

Skin texture and pore size

Stretch marks
How does Micro-Needling work?
The device penetrates the upper layers of the skin to create numerous tiny needle wounds. The procedure prompts the body to respond through the creation of new collagen and elastin fibers. In response to the stimulus, the skin plumps and thickens, reducing the appearance of scars, and fine lines and wrinkles.
What does the procedure involve?
The skin is cleaned and numbing cream will be applied to lessen discomfort. A small handheld pen like device with a sterile disposable tip, with 12/36 tiny needles is then used to pierce the skin. As each fine needle punctures the skin, it creates a channel or micro-wound stimulating skin cell regeneration. These channels help with maximum absorption of skin care products.
For optimal results I use collagen-stimulating products such as: Hyaluronic Acid, Vitamin-A & E serumswith added Growth Factors for maximum rejuvenation and rapid healing.Growth factors are proteins that regulate cellular growth, proliferation and differentiation under controlled conditions. These products are made to be used specifically with this treatment by a local Pharmacist. They play an important part in maintaining healthy skin structure and function.
About the procedure
This procedure is performed in a safe and precise manner with a single-use sterile needle head. The treatment session usually takes about 30-60 minutes, depending on the area(s) being treated. After the procedure, the skin will be red, with mild swelling and/or bruising, and your skin might feel tight and sensitive to the touch. Although these symptoms may take 2-3 days to resolve completely, they will diminish significantly within 24 hours after treatment. Some peeling and flaking is common 3 to 4 days after your treatment.
The information provided should be followed by all patients receiving a Micro-Needling treatment to ensure the health of your skin and the success of you peel.
PRE -TREATMENT CONSIDERATIONS:
Do not use tanning beds or have extended sunlight exposure for 1 week prior to treatment.

Do not use retinols or Vitamin A for 3 days prior to treatment.

Avoid use of NSAIDS, such as ibuprofen 1 week prior to treatment.

If you bruise easily take Arnica for 1 week before your treatment.esa
POST-TREATMENT HOME CARE:
Wash face thoroughly a few hours after treatment. Gently was the area with tepid water and gentle cleanser to remove all serum. This will improve the appearance of the skin and allow for better absorption of post-procedure serums.

Mineral make-up can be applied the following day.

Day 1-3 – Skin may be dry and feel tight. Flaking may occur. This is normal. Frequent use of recommended serums will help alleviate any discomfort.

Day 2-3 – Return to regular skin care routine. Retinol is optimal during this time and suggested.

Avoid alcohol based toners for 10-14 days.

Avoid direct sun exposure for at least 14 days post treatment.
RECOVERY TIMELINE:
DAY 1: Redness and mild swelling, like having sunburn for 24 to 48 hours and there may be minimal pin-point bleeding and/or bruising.Severity may vary.
DAY 2: A red/pink hue may persist and look like a moderate sunburn. Swelling may be noticeable. There may be slight itching.
Day 3: Skin can appear pink or return to normal color. Swelling subsides.Some peeling or flaking can occur.
RISKS OF MICRO-NEEDLING
Although the majority of patients do not experience any complications with micro-needling, it is important you understand that risks do exist. The micro-needling procedure is minimally invasive, utilizing a set of micro-needles to inflict multiple, tiny, puncture/lacerations to the outermost layer of the skin. Because micro-needling penetrates the skin, it inherently carries health risks, including but not limited to those listed below. You should discuss any and all health concerns with me PRIOR to signing the consent form.
Infection– Infection is very unusual. However, viral, bacterial, and fungal infections can occur anytime the integrity of the skin is compromised. Should infection occur, you must contact your physician immediately.
Pigment/color change– Because dermal penetration is so superficial it doesn't extend into the layer of the skin containing melanocytes, hyperpigmentation is very rare with micro-needling; However, failure to follow post treatment instructions can put you at risk for hyperpigmentation. You MUST avoid sun exposure for 1 to 2 weeks after a micro-needling treatment. You should also wear a daily SPF facial moisturizer, which your esthetician can recommend. Lastly, avoid picking and/or peeling the skin during healing period.
Scarring– Although normal healing after the procedure is expected, abnormal scars may occur in both the skin and deeper tissues. In rare cases, thickened or keloid scars may result, especially if you are prone to keloid scarring anyway. Scars may be unattractive and of different color than surrounding skin. Additional treatments may be needed to treat scarring.
Pain– There may be a very slight burning, scratchy, and irritated sensation to the skin. This is usually temporary and is gone within a few hours after treatment..
Persistent redness, itching, and/or swelling– Itching, redness, and swelling are normal parts of the healing process. These symptoms rarely persist longer than 24 to 48 hours.
Allergic reaction– Micro-needling is performed with a head containing 12 sterile hypodermic needles, making an allergic reaction nearly impossible; However, a variety of products will be used on the face in conjunction with the procedure, to which an allergy can occur. Additionally, since micro-needling increases the penetration of topical substances, it can cause you to be hypersensitive to products used on the face. If an allergic reaction were to occur, you must contact your physician immediately.
Lack of permanent result– Micro-needling will not completely or permanently improve skin texture, tone, elasticity, hyper pigmentation, scars, or minimize fine lines and wrinkles. It is important that your expectations be realistic and understand the procedure has its limitations.
Contraindications to Micro-Needling
Although it is impossible to list every potential risk and complication, the following are recognized as known contraindications to micro-needling. Furthermore, it is your responsibility to fully and accurately disclose all medical history prior to initial treatment, as well as provide any necessary updates at all future treatment sessions. If you have any of the conditions listed below, you should bring it to the attention of your esthetician PRIOR to signing this consent form.
Active acne • Active infection of any type (bacterial, viral, or fungal) • Blood thinner medications • Cardiac disease/abnormalities • Chemotherapy or radiation • Collagen Vascular Disease • Eczema, Psoriasis, or Dermatitis • Hemophilia / bleeding disorders • Hormone Replacement Therapy • Keloid/hypertrophic scaring • Pregnancy / Lactation • Raised lesions (moles, warts, etc.) • Recent chemical peel procedure • Recent use of some topical rx. • Rosacea • Scleroderma • Skin Cancer • Sunburn • Tattoos • Telangiectasia/erythema • Uncontrolled diabetes • Vascular lesions (hemangiomas)
Common Questions:
What will I look like after the treatment?
Most people will experience redness and mild swelling, like having sunburn for 24 to 48 hours and there may be minimal pin-point bleeding and/or bruising. Some peeling or flaking can occur. Skin may feel dry and tight for 2-3 days. Within a week or two, you will notice that your skin is smoother and more radiant looking but the full effects won't be seen for 4 to 6 weeks.
What is the down time after the treatment?
The inflammatory reaction of the skin is extremely short and fades significantly within hours from redness to pinkish that may last for 12 to 48 hours. In order to reduce visible redness, I recommend hyaluronic acid after the procedure, and to protect the skin with zinc based sunblock. It is recommended that makeup should not be applied for 24 hours after the procedure.
How long will my treatment results last?
Micro-Needling produces results through the stimulation of growth factors and collagen, thereby promoting new skin cells to surface. As our skin ages, our collagen production naturally slows down. Your overall result will last longer when using an at home skin care regimen that includes a daily Vitamin C, Peptide Serums, Retinoid products and sun screen with zinc oxide. New collagen & elastin formation in the skin are documented as visually and measurably improved as much as one year after just one treatment. However, a series of treatments is typically recommended for best results.
How many treatments do I need and how often can the treatment be repeated?
You will see results after your first treatment but for optimal results Micro-needling can be safely repeated every 4-6 weeks until you achieve the desired results.
The three stages of skin remodeling are:
1.     Inflammation – This begins directly after the treatment, the skin is red and inflamed.
2.    Inflammatory response – Healthy tissue growth is stimulated.
3.    Tissue formation – The actual remodeling of healthy skin continues for up to 1 year.
What should I avoid on my skin after treatment?
To ensure the right healing environment, for 2-3 days do not use:
AHA's (glycolic Acid), retinol, acidic or "active" ingredients

Exposure to sun should also be avoided or zinc based sunblock should be used

Avoid sweaty exercise for 24 hours
Am I a candidate for the Treatment?
It is not suitable for patients who:
Have a used Accutane (isotretinoin) within the last three months (Acne Medicine)

Have open wounds, cuts or abrasions on the skin

Have had radiation treatment to the skin within the last year

Have any kind of current skin infection, condition, herpes simplex in the area to be treated

Are on Blood thinner medications

Are pregnant or breast feeding

Have any history of keloid or hypertrophic scars or poor wound healing
How much is the treatment ?
Full face $300.00
Neck $150.00
Chest $150.00
All 3 $500.00 Save $100.00
Scars vary
Packaging prices are available. Call for pricing.   239-985-0262
Testimonials:
Ellie, my complexion is the best it has ever been.  The 3rd time is the charm!!  Cris Z.
I had no idea my skin could ever look this good at my age….Debra Courter