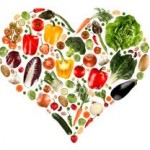 Eating a healthy, balanced diet is an important part of maintaining good health, and can help you feel your best. It can be simple, too. Just follow these tips to get started.
Five a day
Due to their nutritional and health benefits, it's recommended that fruit and vegetables form the basis of your diet, with a minimum intake of five portions each day – about a third of your daily food consumption.
Fruit and vegetables should be incorporated into every meal, as well as being the first choice for a snack. Population studies have shown that people who eat a lot of fruit and vegetables may have a lower risk of chronic disease, such as heart disease and some cancers. Health benefits can be gained from fresh, canned (in natural juice), frozen, cooked, juiced or dried versions. Potatoes don't count though, as they're a starchy food.
Healthy Eating Tips
Start your day with breakfast. A healthy breakfast can jumpstart
your metabolism and prevent overeating later in the day.
Balance your food choices throughout the day. A balanced diet is a key to a healthy lifestyle. Refer to the United States Department of Agriculture's (USDA) Choose My Plate initiative for help choosing foods that make up a well-balanced diet.
Snack smart. Instead of a candy bar or bag of potato chips, reach for some carrots, celery with peanut butter, an apple, or other fruits and vegetables you enjoy.
Limit high-sugar foods. Read food labels and limit consumption of those foods that list high-fructose corn syrup, dextrose, and sucrose.
Eat modest portions. Oftentimes, serving sizes are more than you need. Eat only until you are satisfied and avoid eating while watching television, which often results in mindless overeating.
Eat regular meals. Space out your meals at regular intervals. Space out your meals at regular intervals. Waiting too long to eat often results in overeating or binge eating, and unhealthy choices.
Choose broiled, steamed or grilled options over fried foods. Fried foods increase caloric and fat intake.
Beware of sauces and condiments. Many sauces, condiments, and salad dressings contain hidden calories and sugars. You can make your own and use sugar substitutes, instead of calorie-laden sugar.
Enjoy your food. Eating slowly gives the brain time to register that "full" feeling, and can prevent eating when you're not even hungry anymore.